8th over ENG XX-1
Hands on heads of every Kiwi from Lord's to Christchurch. A beauty from Henry swings away from a booming drive by Bairstow, somehow evading the edge. Just one from the over.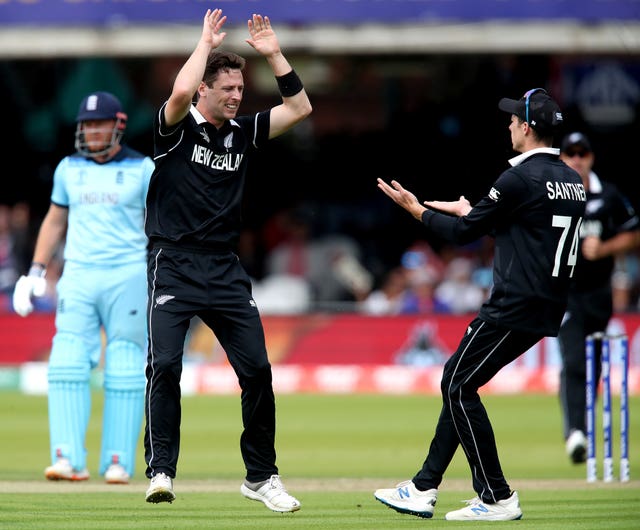 7th over ENG 33-1
Probing from Boult, trying to bring the ball back in to Bairstow's pads. Swings a wide down the leg-side before Bairstow pushes a four down the ground.
— BLACKCAPS (@BLACKCAPS) July 14, 2019
6th over ENG 28-1
Joe Root is the new man and he defends the final two balls of the over. 28 for one after six.
WICKET Roy 17 c Latham b Henry
Another drive for four through the covers from Roy, but Henry holds his line and his nerve to nip one away from the right-hander and take the edge which is well taken by keeper Tom Latham.
Key, key wicket for the Blackcaps.
5th over ENG 24-0
Couple of boundaries through the off-side for Bairstow just releases some of the early pressure. When you do not have a huge target on the board, every boundary hurts and New Zealand know how badly they need wickets.
4th over ENG 16-0
Under the pressure of a run chase in a World Cup final, with the ball nipping around, you could be forgiven for being a little cautious.
Jason Roy not having a bit of it, charging Henry's final delivery of the fourth and trying to loft it down the ground. Not much timing, though, but it is safe.
3rd over ENG 12-0
Boult finds huge swing with a full ball but Roy evades it, before striking the next ball for four. Excellent contest at the moment, with New Zealand finding movement from the surface.
2nd over ENG 5-0
Another moment of concern for Roy as Henry nips one back as he attempts a booming drive, only for the ball to pass just over the stumps.
The final ball is slightly over-pitched and is stroked straight down the ground for four.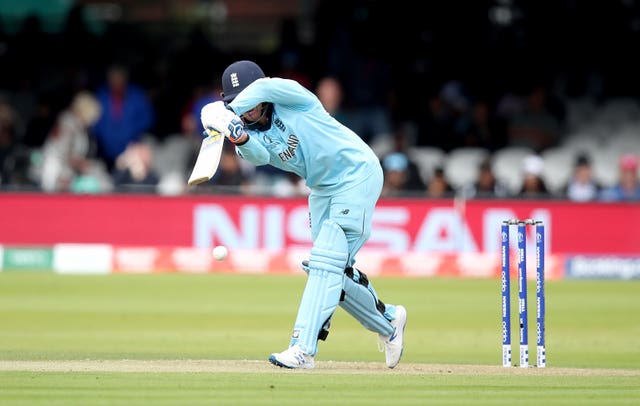 Roy is such a crucial wicket for the Blackcaps. He's been in sensational form in this World Cup.
1st over ENG 1-0
Huge, huge shout first up from Boult with one that swings back at Roy. Not out the call, New Zealand review. The replay shows it to be crashing into leg stump, but by the smallest of margins Roy survives on umpires call.
New Zealand very unlucky. Superb first over from Boult, one from it.
PLAY
These first ten overs could make or break the match. If Roy and Bairstow fire as they did against Australia and have done so often, they could break the back of this chase very quickly.
But New Zealand, with Boult and Henry, ripped through India early in the semi-final and will be on the hunt for quick wickets.
Here we go…
15.10
We're about to find out how accurate Tufnell's prediction is, as Jason Roy and Jonny Bairstow emerge for the beginning of the England innings.
15.09
Former England spinner Phil Tufnell thinks the chase will be "a piece of cake".
15.05
Away from Lord's, fans have gathered in Trafalgar Square to watch the match on a big screen.
Will they be celebrating on the streets of central London tonight?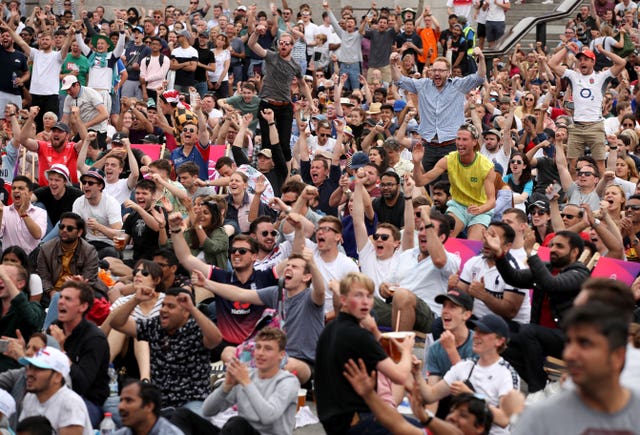 15.01
14.56
England's star performer Plunkett has just been asked whether he would have taken a target of 242 before play got under way.
50th over NZ 241-8
A fantastic performance from England's bowlers sees them set a very achievable winning target.
New Zealand produced a superb bowling display of their own in the semi-final win against India and they are likely to need similar again if they are to win the World Cup for the first time.
WICKET Henry 4 b Archer
Matt Henry is brought to the crease by the dismissal of Latham but faces only two deliveries before being clean bowled by Archer in the final over.
49th over NZ 238-7
The wicket comes midway through a mixed innings for Woakes.
The delivery before Latham walked was a costly wide, while a high full toss from his fourth ball gave New Zealand a free hit.
Woakes concedes 13 runs in all.
WICKET Latham 47 c Vince b Woakes
Latham's innings ends three runs short of his 50.
Another catch for Vince in only his third over in the field – this time off the bowling of Woakes, who joins Plunkett in taking three wickets.
48th over NZ 225-6
Latham and Santner struggle to fight back following the loss of De Grandhomme and add just five in the 48th over.
47th over NZ 220-6
New Zealand add six around the loss of De Grandhomme.
Mitchell Santner arrives at the crease with three overs of the innings remaining and the Black Caps needing a late boost to their total.
WICKET De Grandhomme 16 c Vince b Woakes
A tricky innings for De Grandhomme comes to an end as he lifts a slower Woakes delivery to Vince at mid-off.
46th over NZ 214-5
Wood leaves the field to receive some attention to the injury he picked up in the previous over.
James Vince is the substitute fielder.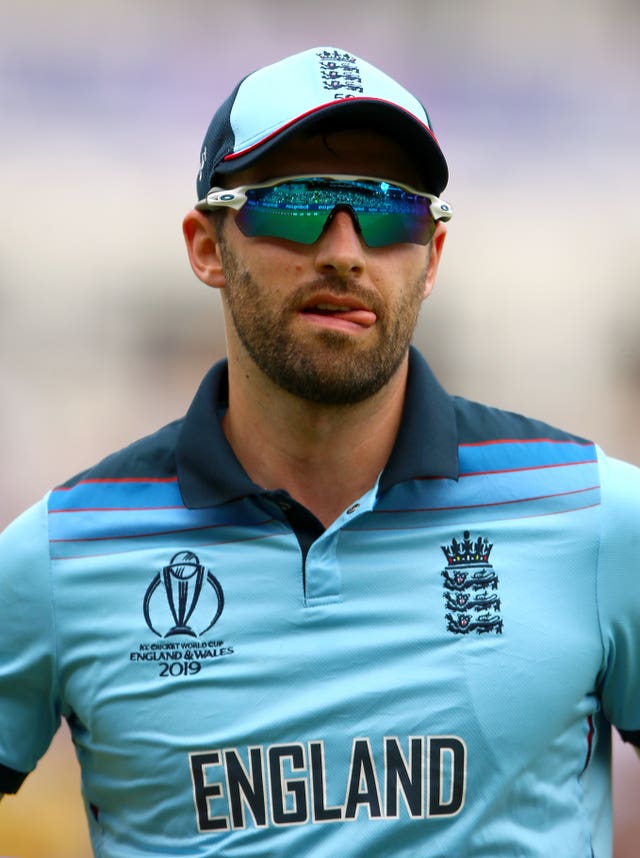 45th over NZ 211-5
Latham smashes a Wood delivery over wide long-on for only New Zealand's second six of the match, but they can only add one more in an over that yields seven.
Wood appears to be nursing his left side at the end of that one, although he has now completed his allocation.
44th over NZ 204-5
43rd over NZ 196-5
De Grandhomme ducks for cover from a Wood bouncer and is this time struck on the shoulder, although he will gladly accept four leg byes at the expense of a bruise.
42nd over NZ 186-5
De Grandhomme his checked by the physio after edging an Archer delivery onto his helmet and is cleared to continue.
New Zealand add five from the over.
41st over NZ 181-5
Plunkett concedes only two from the final over of his allowance, and New Zealand will be glad to see the back of him.
A fantastic final performance, taking three wickets for 42 runs.
40th over NZ 179-5
Colin De Grandhomme comes to the crease in place of Neesham as New Zealand add six runs off the bowling of Wood.
39th over NZ 173-5
That wicket comes with the final ball of an over in which Plunkett concedes eight runs, including a Neesham boundary for what prove to be his final runs.
WICKET Neesham 19 c Root b Plunkett
Plunkett again!
The 34-year-old adds a third wicket as Neesham lift his cross-seamer to Root at mid-on.
38th over NZ 165-4
Latham and Neesham are doing their best to increase the run rate and the former picks up another boundary with a neat strike to the right of extra-cover off the first delivery of the over.
37th over NZ 159-4
New Zealand will not welcome the sight of Plunkett back on bowling duty.
They emerge from the over unscathed and with a boundary for Latham, although they only add six in total.
36th over NZ 153-4
Another superb over from Wood means he has now conceded only one run from his past 12 deliveries.
35th over NZ 152-4
A timely strong innings from New Zealand, with Neesham hitting a pair of fours as they take 11 from the over.
His opening boundary was the first since the 20th over.
34th over NZ 141-4
A sensational over from Wood, who adds five dot balls to his dismissal of Taylor.
James Neesham arrives at the crease to partner Latham, who ends the over on 11 from 20 deliveries.
WICKET Taylor 15 lbw Wood
Far from ideal for the Black Caps!
Wood traps Taylor lbw off the first ball of the 34th over and, with Guptill having squandered New Zealand's review earlier in the innings, there is no reprieve. Replays suggest the ball would have cleared the stumps.
33rd over NZ 141-3
New Zealand take seven from Stokes' second over and will now need to begin building the run-rate once more to set England a challenging target.
32nd over NZ 134-3
England stick with Rashid for an eighth consecutive over after the drinks break and the spinner continues to offer Latham and Taylor little to get their teeth into, restricting them to four.
31st over NZ 130-3
Ben Stokes takes on bowling duties, suggesting his earlier injury scare was a false alarm.
He concedes four runs from his first over.
30th over NZ 126-3
New Zealand have now gone 10 overs without finding the boundary and Rashid limits them to three runs from the 30th over with another solid display.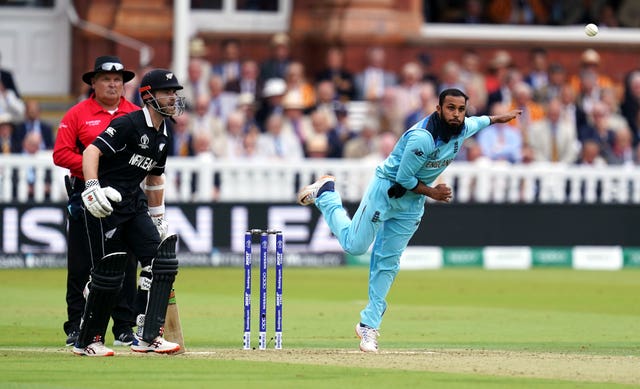 29th over NZ 123-3
Plunkett is beginning to steal the show and he is on course for a maiden over until Latham steals a single off the final delivery.
28th over NZ 122-3
Rashid restricts Latham and Taylor to four runs from the 28th, as New Zealand look to recover the momentum that has been checked by the loss of both Williamson and Nicholls.
27th over NZ 118-3
The wicket comes from the penultimate delivery of an over in which New Zealand add four runs and Tom Latham comes to the crease.
WICKET Nicholls 55 b Plunkett
Nicholls' day is soon over, however, with Plunkett again doing the damage as the batsman found his stumps via an inside edge.
Plunkett has taken the key wickets of both Williamson and now Nicholls.
26th over NZ 114-2
Nicholls brings up his 50 off the first ball of the over, driving Rashid to long-on.
He finishes the over on 52, with Taylor on five from 12 deliveries faced.
25th over NZ 109-2
Plunkett delivers another fantastic over, conceding just a single from Nicholls.
24th over NZ 108-2
New Zealand take five from Rashid's fourth over, with Nicholls moving to within two runs of making his ninth one-day international 50.
23rd over NZ 103-2
England really needed that wicket and Plunkett gives away only a single to make it an even sweeter over for the hosts.
Ross Taylor comes to the crease following Williamson's dismissal.
WICKET Williamson 30 c Buttler b Plunkett
How important could that be?
Williamson appears to be hitting his stride but Plunkett is convinced the Black Caps skipper nicked his fourth delivery of the over on its way through to Jos Buttler.
Morgan asks for a review, which concludes that the ball did indeed clip Williamson's outside edge. Out.
22nd over NZ 102-1
England have rarely threatened since claiming the early wicket of Guptill. Rashid does, at least, restrict New Zealand to four in the 22nd.
21st over NZ 98-1
New Zealand make it 28 runs from four overs, but it could have been more had Rashid not intercepted Nicholls' shot to deep third man before it reached the boundary.
20th over NZ 91-1
Rashid's first ball of the over is swept for four by Williamson as New Zealand steadily increase the run rate with yet another seven-run yield.
England could do with a wicket to break this settled partnership and prevent the momentum from building further.
19th over NZ 84-1
Another seven-run over carries the partnership of Nicholls and Williamson past the 50-run mark. The pair are on 40 and 17 respectively.
18th over NZ 77-1
Adil Rashid's first over sees New Zealand pick up at least a single from every delivery as they finish with seven for the over.
17th over NZ 70-1
Nicholls moves on to 33 with a single off Wood – his previous best in this tournament was 28 in the semi-final.
Williamson, meanwhile, has picked up a slice of Cricket World Cup history…
16th over NZ 68-1
A brief moment of concern for England as Stokes appears to be moving gingerly in the field.
He's OK to continue, but perhaps one to keep an eye on.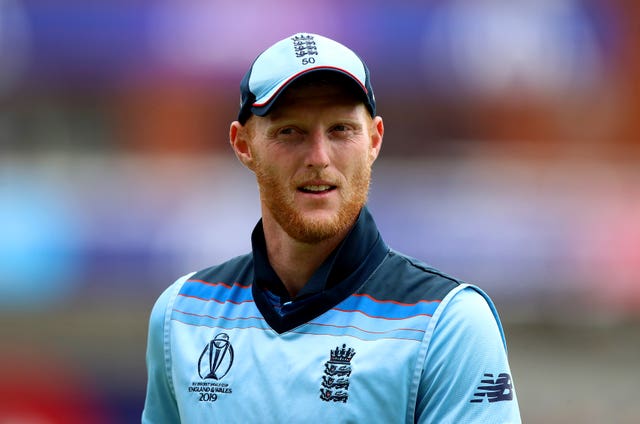 15th over NZ 63-1
Mark Wood concedes eight runs from his first over, including Williamson's first boundary of the match, which hooked to fine with a possible connection off the glove.
14th over NZ 55-1
Nicholls finds the gap with a flick to the backward square leg boundary off the final delivery, giving the over a lift from a New Zealand perspective.
13th over NZ 47-1
Williamson has to make do with just a wide from Woakes as New Zealand add just one in the 13th.
12th over NZ 46-1
Nicholls takes six runs from Plunkett's first over, taking his personal tally to 21 for the innings so far.
11th over NZ 40-1
For the first time in the past five overs, the Black Caps add more than two runs.
The bulk of their seven-run haul comes courtesy of a Nicholls boundary, struck to the left of backward point off a short and wide Woakes delivery.
10th over NZ 33-1
Williamson finally gets his first run on the board from his 12th delivery faced, but the progress remains slow and New Zealand will want to pick up the pace soon.
9th over NZ 31-1
New Zealand dash for a quick single, but it almost results in a run out for Nicholls.
Had Jason Roy been a touch more accurate with his throw from mid-off, Nicholls could well have been in danger of being sent back to the pavilion.
Williamson still yet to score.
8th over NZ 30-1
Williamson hit 67 in the semi-final win against India but, but he is making a slow start at Lord's.
Despite facing eight deliveries so far, the skipper is yet to register a run.
7th over NZ 29-1
Another strong over from Woakes, who – on top of claiming the wicket of Guptill – only concedes a single from Nicholls.
WICKET Guptill 19 lbw Woakes
A length ball from Woakes catches Guptill out as he looks to drive through mid-off, striking him on the back leg.
Guptill is given out and the decision stands on review, bringing captain Williamson to the crease.
6th over NZ 28-0
Archer puts one on Nicholls' pads but it was outside leg stump, with the black caps adding four.
5th over NZ 24-0
A useful over from Woakes, who restricts Guptill and Nicholls to a single apiece.
4th over NZ 22-0
Guptill shows signs of hitting his stride, knocking the final's first six over third man before finding the boundary once more two deliveries later, sending the ball back past Archer for his second four.
3rd over NZ 10-0
Henry Nicholls then survives on review after being given out lbw from the third ball of the following over.
Tracking shows the ball would have cleared the stumps, earning Nicholls a reprieve.
2nd over NZ 8-0
England think Jofra Archer has claimed the final's first wicket, believing Guptill to have been caught behind off the fifth delivery of the over.
Morgan opts against the review and replays suggest he has made the right call, with the ball appearing to have made contact with the hip area rather than the bat.
1st over NZ 5-0
Woakes opens with a wide outswinger before the first runs off the bat come courtesy of a boundary, with Guptill's outside edge sending the ball beyond Ben Stokes at backward point.
PLAY
We are under way in the World Cup final, with Chris Woakes opening the bowling to Martin Guptill.
10.39
The teams are out for the anthems and there are plenty of well-wishers on social media from the world of cricket and beyond.
10.31
Morgan was not disappointed at being asked to bowl first.
"No, not at all," he said. "It was a 50-50 call. It's always difficult here at Lord's. With the overheads I'd probably lean towards a bowl, but it doesn't really bother me.
"I think the two teams, whichever plays well today will lift the trophy at the end of the day, so it's a big challenge for us today playing against an in-form New Zealand team."
10.25
Explaining his decision to bat first, Williamson said: "If you look at the surface, I think it's a bat-first surface, but then you look up above and it brings in a bit of confusion.
"But at the same time we are here in a final and it's important that we do the job first up with bat in hand."
10.15 New Zealand win the toss
New Zealand captain Kane Williamson won the toss and has decided to bat first.
That follows the trend of the tournament but also offers England the chance to replicate the brilliant start they made with the new ball against Australia.
The hosts have named an unchanged XI for the fourth game in a row, meaning Liam Plunkett retains his place in a seam-heavy attack at the expense of spin-bowling all-rounder Moeen Ali.
Their opponents have also kept faith with their semi-final winning side, Henry Nicholls having passed a fitness test.
WELCOME TO TODAY'S LIVE BLOG
England face New Zealand in the Cricket World Cup final at Lord's, where both teams are looking to win a maiden title.
Eoin Morgan's side booked their place in the showpiece with a thumping win over Australia, while New Zealand's stunning bowling performance saw them overcome India in the other semi-final.
Overnight rain means the start has been delayed by 15 minutes, but this final will soon be under way.
body check tags ::